Whatever you think of Netflix's Tiger King: Murder, Mayhem and Madness — we assume you've binged it all by now — there's no denying that Carole Baskin is one of the series' most divisive characters.
Although Tiger King puts Joe Maldonado-Passage (aka Joe Exotic) front and centre, the seven-part series introduced us to the likes of Vegas kingpin Jeff Lowe, eccentric park owner Doc Antle, Jurassic Park-inspired Rick Kirkman, walking Chucky doll James Garretson, and obviously, Carole herself.
The dramatic climax of Tiger King saw Joe behind bars after being convicted for his part in a murder for hire plot against Carole, however, the road to the final episode was a long one. One of the biggest twists came early on in the series with the revelation Carole's first husband vanished under mysterious circumstances.
Everyone (and I mean EVERYONE) now seems to be obsessed with finding out what happened to Don Lewis. Luckily for us, a new documentary is on its way by Investigation Discovery.
The new show promises to look into his disappearance even further, and hopefully unveil new information about him and his potential whereabouts. The description reads: "Is she a selfless crusader and protector of animals, who found unimaginable strength despite the mysterious disappearance of her husband?
"Or are we witnessing Carole Baskin's master plan finally take effect? Despite her claims of innocence, did she orchestrate the disappearance of Don Lewis to seize control of his fortune, consolidate power and lay waste to her foes?
"No one seems to be talking – except for one man – and that man is the center of ID's upcoming investigative series."
As you've probably already guessed, the person who is 'talking' is Joe Exotic, and the show itself is even called Investigating the Strange World of Joe Exotic.
There's no official air date yet, but due to the fact that this show is pretty much the only thing people are talking about other than coronavirus, you'd assume that it will be soon.
Carole has released a lengthy blog post regarding the Netflix documentary, and slammed any suggestion that she was in any way involved with the disappearance of her ex-husband.
She wrote: "Don was not easy to live with and like most couples, we had our moments. But I never threatened him and I certainly had nothing to do with his disappearance. When he disappeared, I did everything I could to assist the police. I encouraged them to check out the rumors from Costa Rica, and separately I hired a private investigator. Robert Moor's Wondery Podcast 'Joe Exotic' included discussion of Don's disappearance but was much more honest and fair in their treatment of it. They ended the discussion by pointing out that the investigator told them that, in their dealings with me, "she was courteous and there was nothing that jumped out at me in terms of her demeanour that to make me think that she was not giving us accurate information or hiding anything."
You can read her full statement here.
This comes after Florida authorities announced that they are re-opening the case of Jack Donald Lewis. Posting on Twitter, Hillsborough County Sheriff Chad Chronister shared an appeal and said, "Since @Netflix and #Covid19 #Quarantine has made #TigerKing? all the rage, I figured it was a good time to ask for new leads." Chronister also posted a picture of Lewis and reminded everyone he hasn't been seen since August 18, 1997.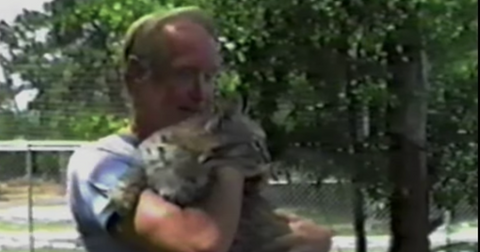 There's no escaping the fact Joe thinks Carole killed her husband and fed him to the tigers — an allegation that grows alongside their feud with each other. It also led to the frankly brilliant Tiger King soundbite of, "Hey Carole, it's a voice from your past… GET ME THE F**K OUT FROM UNDER THE SEPTIC TANK!"
The news comes after new claims from author Robert Moore. Moore is something of an expert on all things Baskin and Exotic and spent four years working on a podcast about the whole debacle. Writing on Twitter, Moore claimed he spoke to an ex of Carole's and that Baskin once said the ominous line of: "Dead bodies can't talk'."
12. After Don Lewis vanished, but before Carole married Howard, she dated a guy named Jay Baykal.

In 2002, Jay filed a restraining order against Carole, which includes some bizarre and suspicious-sounding details regarding Don's disappearance: https://t.co/k2uWfaT4is pic.twitter.com/hKsQIzCjeL

— ?????? ???? (@robertmoor_) March 24, 2020
Even Gwyneth Paltrow has got in on the action and given her own views on what she thinks happened. One person tweeted, "Absolutely iconic how Carole Baskin did Tiger King thinking she'd get to expose Joe Exotic and Doc Antle for animal abuse and now all of America is obsessed with Joe and thinks Carole is a murderer. That's showbiz baby." Gwyneth simply wrote back: "THERE IS NO OTHER EXPLANATION."
Featured image credit: Netflix