If the first third of 2020 could be summed up by any two subjects, it would definitely be COVID-19 (coronavirus) and Tiger King.
For the first few weeks of lockdown, pretty much everyone watched the Netflix documentary. Now, Firebox has released its very own Joe Exotic condoms.
In a press released, Firebox said: "The world is in the midst of a potential isolation-induced baby boom, and there's a global shortage of condoms. No one wants their future offspring to become a Covid-19 cliché. So Firebox.com has launched Joe's Exotic Condoms, featuring the undisputed cult hero to an entire generation of bored humans trapped in their lockdown cages,
"Now you can get your paws on your very own piece of (unofficial) merch inspired by the arguably the most popular gun-toting, gay, polygamist, country musician-cum-zookeeper fashionista in pop-culture today,
"Each limited edition pack contains four quality-assured condoms, which offers big cat protection against any unexpected mishaps. By all means, #FreeJoeExotic, but keep your own crazy, sexy animal protected."
Joe's Exotic Condoms are available at Firebox.com for £9.99.
In other news Joe Exotic, aka Joe Maldonado-Passage, was married to John Finlay.
The shirt-hating Floridian became famous for his not quite perfect teeth. He's now had them sorted, and he looks unrecognisable.
This comes after Hillsborough County Sheriff Chad Chronister reopened the case of Carole's missing ex-husband, Jack Donald Lewis.
The dramatic climax of Tiger King saw Joe behind bars after being convicted for his part in a murder for hire plot against Carole, however, the road to the final episode was a long one. One of the biggest twists came early on in the series with the revelation Carole's first husband vanished under mysterious circumstances. Now, Florida authorities are re-opening the case of Jack Donald Lewis.
Posting on Twitter, Hillsborough County Sheriff Chad Chronister shared an appeal and said, "Since @Netflix and #Covid19 #Quarantine has made #TigerKing? all the rage, I figured it was a good time to ask for new leads." Chronister also posted a picture of Lewis and reminded everyone he hasn't been seen since August 18, 1997.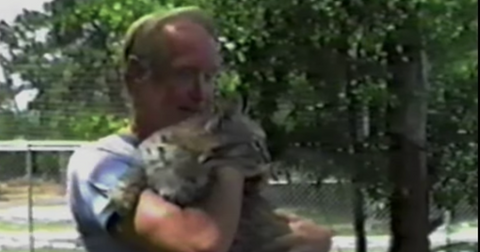 There's no escaping the fact Joe thinks Carole killed her husband and fed him to the tigers — an allegation that grows alongside their feud with each other. It also led to the frankly brilliant Tiger King soundbite of, "Hey Carole, it's a voice from your past… GET ME THE F**K OUT FROM UNDER THE SEPTIC TANK!"
Featured image credit: Firebox