Tiger King is everywhere right now. You're either talking about coronavirus, or shouting 'Hey there cool cats and kittens!' to your friends over the House Party app.
Although Tiger King puts Joe Maldonado-Passage (aka Joe Exotic) front and centre, the seven-part series introduced us to the likes of Vegas kingpin Jeff Lowe, eccentric park owner Doc Antle, Jurassic Park-inspired Rick Kirkman, walking Chucky doll James Garretson, and, of course, John Finlay.
The shirt-hating Floridian became famous for his not quite perfect teeth. He's now had them sorted, and he looks unrecognisable.
This comes after Hillsborough County Sheriff Chad Chronister reopened the case of Carole's missing ex-husband, Jack Donald Lewis.
Whatever you think of Netflix's Tiger King: Murder, Mayhem and Madness — we assume you've binged it all by now — there's no denying Baskin is one of the series' most divisive characters.
The dramatic climax of Tiger King saw Joe behind bars after being convicted for his part in a murder for hire plot against Carole, however, the road to the final episode was a long one. One of the biggest twists came early on in the series with the revelation Carole's first husband vanished under mysterious circumstances. Now, Florida authorities are re-opening the case of Jack Donald Lewis.
Posting on Twitter, Hillsborough County Sheriff Chad Chronister shared an appeal and said, "Since @Netflix and #Covid19 #Quarantine has made #TigerKing? all the rage, I figured it was a good time to ask for new leads." Chronister also posted a picture of Lewis and reminded everyone he hasn't been seen since August 18, 1997.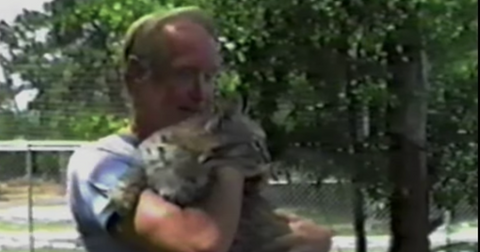 There's no escaping the fact Joe thinks Carole killed her husband and fed him to the tigers — an allegation that grows alongside their feud with each other. It also led to the frankly brilliant Tiger King soundbite of, "Hey Carole, it's a voice from your past… GET ME THE F**K OUT FROM UNDER THE SEPTIC TANK!"
The news comes after new claims from author Robert Moore. Moore is something of an expert on all things Baskin and Exotic and spent four years working on a podcast about the whole debacle. Writing on Twitter, Moore claimed he spoke to an ex of Carole's and that Baskin once said the ominous line of: "Dead bodies can't talk'."
Even Gwyneth Paltrow has got in on the action and given her own views on what she thinks happened. One person tweeted, "Absolutely iconic how Carole Baskin did Tiger King thinking she'd get to expose Joe Exotic and Doc Antle for animal abuse and now all of America is obsessed with Joe and thinks Carole is a murderer. That's showbiz baby." Gwyneth simply wrote back: "THERE IS NO OTHER EXPLANATION."
I'll admit, my Tiger King journey was quite the rollercoaster and I went from feeling for Carole to rooting for Joe. While Exotic still languishes behind bars, we'll have to see if anything comes from the Sheriff's investigations. The big question is, does Carole know more than she's letting on?
Featured image credit: Netflix